Born David Eric Grohl on January 14, 1969, in Warren, Ohio, Dave Grohl is one of the world's finest musicians. First as a drummer in Nirvana and then as the frontman for the Foo Fighters, now onto drumming with supergroup Them Crooked Vultures, Dave Grohl has become one of the leading figures in rock today. He has played a role in 4 bands and has worked with over 10 other artists from Eddie Vedder to Paul McCartney to Neil Young. He has won over 10 Grammys with said bands, and was awarded with the title 'God-Like Genius' at the NME awards and is noted as the "Nicest Man In Rock," which is an undestatement. Amongst this, Dave Grohl has produced some of rock's most popular, timeless classics.
Grohl's interest in music emerged early. He started out playing guitar belonging to his parents, and played it until he broke all strings. Shortly, Grohl became interested in the drums, and played with his mother's pots and pans as a pretend set. By the age of ten, Grohl formed his first band, the H. G. Hancock Band. Not long after, he was introduced to punk rock by one of his cousins. In high school, he played in a string of punk bands and got involved in soft drugs. After dropping out in his junior year, he joined the Washington, D.C.-based hardcore band, Scream. He was given the position as drummer. Grohl appeared on three of the group's albums and toured with them several times.
During one tour, Grohl met up with members of The Melvins, a highly influential punk band. It was backstage at a Melvins concert that he saw Kurt Cobain and Krist Novoselic from Nirvana for the first time in 1990. Grohl did not talk to his future band mates that night; but thanks to Buzz Osborne of the Melvins, he did get to audition for Nirvana later that year. Grohl travelled to Seattle, hoping to become Nirvana's new drummer. As soon as he played for them, both Cobain and Novoselic thought he would be perfect for their band.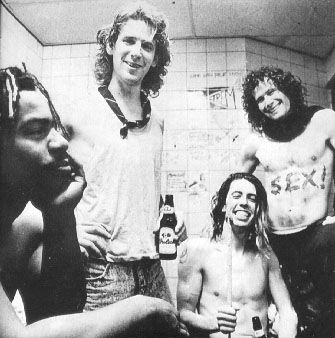 Scream
After joining the group, soon the major labels became interested in Nirvana, offering contracts with large advances. They ended up signing with Geffen Records. Their first release with them, 1991's
Nevermind
, became a huge hit, driven by the single, 'Smells Like Teen Spirit.' While Kurt handled most of the song writing duties, all three band members had worked on this track, which combined elements of punk, metal, and pop. To this day,
Nevermind
is described to be one of the most influential albums of all time, shining light on the Grunge scene in the '90s.
In nearly a year's time, Nevermind sold more than 4 million copies. Nirvana, with raw, emotional sound, helped launch what was called the Grunge Movement, which often captured feelings of alienation and frustration. They paved the way for other bands, such as Pearl Jam and Soundgarden, to become well-known national acts. The pressures that came with all of that success weighed heavily on the group.
The band made one more studio album together, In Utero. Rolling Stone Magazine called it "brilliant, corrosive, enraged and thoughtful, most of them all at once." While Cobain handled the lyrics, Novoselic and Grohl helped write the music for the album. Still Cobain was increasingly distant and became more depressed. He attempted suicide by taking a drug overdose in March 1994 in Rome while on a break during the band's European tour. On April 5, 1994, Cobain committed suicide in his Seattle home.
Nirvana
After Nirvana, Grohl formed the Foo Fighters. Initially, he was the entire band for its 1995 self-titled debut album, playing most of the instruments, singing the vocals, and using songs he had written while still with Nirvana. His dedication and passion towards music was poured into the record, as an attempt to move on from Nirvana, and to escape from the mourning state he was in since Cobain's death. The recording earned positive reviews and spawned two modern rock hits, 'This Is A Call' and 'I'll Stick Around.' When it came time to tour, Grohl brought along bassist Nate Mendel and drummer William Goldsmith and Germs, and late-coming Nirvana guitarist, Pat Smear.
The first Foo Fighters album as a band, The Colour and the Shape, came out in 1997. By this time, Goldsmith had quit and was replaced by Taylor Hawkins. The album made it to the top ten of the album charts and featured such tracks as "Monkey Wrench," "Everlong," and "My Hero." Repeating this feat with There Is Nothing Left to Lose, the Foo Fighters won their first Grammy Award for Best Rock Album. The album had one breakaway single in "Learn to Fly," and the video for the song won the group their first Grammy Award for Best Short Form Music Video. In 2002, One By One came out and blew everyone out of the park with all-time classics, "All My Life" and "Times Like These." Their follow-up album Echoes, Silence, Patience and Grace, came out in the fall of 2007 and did not recieve great reviews but still provided us with Foo fans favourite, "The Pretender." The band went on an extensive tour to promote the record. In 2011 the band released Wasting Light. The album went on to win 5 Grammys including Best Rock Song and Best Rock Album.
Foo Fighters
In the 17 years of making music with Foo Fighters, Grohl has managed to gather 10 Grammys, 5 of which at one ceremony. Grohl's contribution to music can be seen not only through Nirvana and Foo Fighters, but with Queens of the Stone Age's album
Songs for the Deaf
, Queens of the Stone Age's most famous album. He also worked alongside Tenacious D, Nine Inch Nails, David Bowie, Tom Petty, Pearl Jam, Buzz Osbourne, Paul McCartney, Cage the Elephant, Jon Paul Jones of Led Zeppelin and the even most peculiar P. Diddy.
Outside of music, Grohl is a devoted father and husband. He has been married to Jordyn Blum since 2003. The couple have two children together, daughters Violet and Harper Willow. In recent years, Grohl has had his own alley in his hometown Warren, Ohio named after him, recieved two 500lb drumsticks and is ready to release his new documentary, Sound City Studios. It is no doubt that Dave Grohl's contribution to music is beyond admirable, providing us listeners with record-breaking, generation-leading, amazing music. Grohl is keeping rock alive, straight-edge and timeless, and I don't think he'll ever stop. Well, I sure as hell hope he doesn't.
Family Man: Grohl with wife Jordyn & daughters Violet and a shy Harper Willow